Enquiry Management System
Enquiry Management System or EMS is a software solution to overcome the complications that many businesses face in keeping track of the enquiries or leads. The main problem that many companies face is in the enquiry registration and the follow-up process that gets missed or not responded due to lack of a good enquiry management system. This software works the same way as a Lead Management System.The EMS has been developed after a lot of research and analysis to provide a solution and overcome all the issues and to make sure our client's business runs smoothly and effectively and with good returns. It has been developed considering all the procedures and rules that need to be followed to keep track of all the enquiries and to avoid losing any business.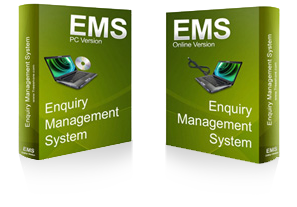 EMS FEATURES:
Customisation:
EMS is not a readymade software but a solution to overcome the issues. We understand the client's requirements and customise the existing software to meet the business needs to make them reliable and flexible.
User-Friendly:
The customised software is developed with immense research and analysis in finding the best solution with the given requirements to make sure the software is user-friendly. We make sure our client's while using the software feel the ease and are quick.
Versions:
The application is cloud based and can be used with very quick registration. There is also a Mobile app developed especially keeping the field sales executive in mind.
Support:
We believe software support is essential in developing our client's business and see them succeed in making them concentrate in their core business. EMS Support is offered over the phone, email and site visit.
The important steps that goes through EMS:
Product Registration – Creates a database of all the products or services being offered by the company.
Enquiry Registration – Records all the enquiries that can come from various sources like email, website, telephone.
Follow-Up – The most important step of any enquiry management system is to follow-up, which avoids the enquiry going unattended and that saves from losing a business. This includes recording the follow-up, attach documents like brochure, quotation, invoice etc. and finally recording the status of that enquiry.
Closure – The company using the application need to check the final result of an enquiry. The enquiry will have to be closed at some stage either it is a failure or a success.
Reports – The business is always better when being tracked and monitored on regular basis by pulling the reports. It gives reports on product analysis, sales executives performance and geographical analysis.